It's always good to get emails in form people who have fond memories of Symi. Not only does it save me some typing but it also lets other people know what they might expect from the island. So, if you have not been to Symi before and want a visitor's perspective, then this email from Fran in the UK might be of interest. Her memories span several years, but not that much has changed around here since her first visit. Fran writes: [caption id="attachment_12884" align="alignleft" width="223"]
Bus Stop Symi, by William Travis (quite a rare find these days I am told)[/caption] Kalispera. I came across your webpage quite by accident after reading the book
Bus Stop at Symi
and when I accessed amazon stumbled on the other books on Symi written by James which I have now read and enjoyed immensely. Memories came flooding back to me of my first holiday in Symi in 1992 I stayed at Villa Papa Nikola for two weeks on a Solo Holiday with a dozen or so travelers. I had a holiday of a lifetime which I have never forgotten, food cooked by Frances whom I met again a few years later whilst visiting Symi again, as well as a lovely Greek gentleman called Charlie. Sundays at Nimos with wonderful food and dancing, beaches of St Nicholas, Nanou, Panormitis and lovely boat trips too, wonderful tavernas and bars, Jean and Tonic and some very, very late nights, stumbling back to sleep off the drinks. [caption id="attachment_12885" align="alignright" width="148"]
Symi 85600[/caption] I did the trip all across the island on my first visit by the flat-back, quite a bumpy trip in those days but memorable all the same. I had a further holiday in 2012 at Pedi which again was wonderful and spent some time in Patmos and Kalymnos I also had a day trip back to Symi number of years ago.  I seem to remember eating at a taverna somewhere up the Kali Strata when the owner I think actually fired a shot from outside I think about one o'clock in the afternoon, it frightened the life out of me but added to my enjoyment. [caption id="attachment_12886" align="alignleft" width="300"]
Neil spent Sunday on a speedboat photographing and videoing The Poseidon for a project[/caption] Your website has evoked some wonderful memories for me and on my last visit two years ago I had a marvelous meal at Odyssia around past the boatyard. So here I go again, I will be back next year for some more and I can't wait!! I am sad you are closing down Symi Dream I liked your photos and it's going to be a loss to the visitors and locals. [caption id="attachment_12887" align="alignright" width="300"]
At Seskli[/caption] I have since 1992 visited over a dozen different Greek Islands but Symi is my favourite and I am sure I don't have to tell you why.  I will look out some of my photos and maybe they can be included on your website if possible. With the very best of luck to you both for your future exploits and I will keep reading your news from time to time and you never know 2015 I may bump into you somewhere on the island.  I am very envious! Regards Fran Thank you for those memories Fran. If anyone else would like to share theirs, feel free to
email me
.
Kalo mina! I was in Nimborio on Saturday afternoon. I walked from home in the village, down the Katarraktis (ο καταρράκτης) to the back of Yialos, and then joined the road heading up the hill. It's not too much of a climb, though there's not a lot of shade and it was very hot. [caption id="attachment_12876" align="alignleft" width="300"]
On the path to Nimborio, looking back towards Horio[/caption] At the top of the hill I took the path between the cemetery on the left and the farm on the right and headed out over the top. If you're coming to Symi and want to try the walk, you find the road/slope from the left hand side (south side) of the town square, pass by Iapitos apartments/hotel and the Grace Hotel, both on the left, and simply follow the road up. The path you then follow has been paved, apart from a small section near the middle where it feels like someone said, 'Oh hell, we'll do it tomorrow' and then forgot to come back. But it's all very walkable and not hard work at all but again, not a great deal of shade. Some lovely views though, and if you do head up that way, make sure to stop and look behind you. Neil has much better photos of this view in his shop, I was using my underwater, all-purpose camera, which is fine, but not as good as his. Once you have been sure not to miss that view, keep on along the path and you will come to the church of St George on your left. From the village to here took me 30 minutes, going slowly. [caption id="attachment_12877" align="alignright" width="300"]
In the courtyard at the church[/caption] The church courtyard is usually open here and you can slip the bolt on the gate and pull back the latch and let yourself in. The church itself is usually locked, but there is good shade under the tree and lots more good views down to Nimborio. I was helping out at a wedding there on Saturday and, after the event, I headed on down towards the sea. You come onto the old donkey path this way and it zigzags down the hill to join the coast road. There you can go left towards the new beach, the kantina, and on and around to the end of the road and the taverna with sunbeds. [caption id="attachment_12878" align="alignleft" width="300"]
Walking back along the coast road[/caption] Or, you can do as I did, and walk back along the coast road. This starts off with another steep-ish incline, but not for long, and then you're up on the same level and it's easy walking (shade thing again) with great views of the sea. The road is now made up and there is a path which you can walk on (single file), though there's no barrier between you and the drop on the other side; it's not a long way down but those of us with balance issues might find it hard to look at the view and keep on the narrow pavement at the same time. I stepped off and onto the road when I wanted to walk and look out to sea, just to save myself from going over the edge. [caption id="attachment_12879" align="alignright" width="300"]
An old gun emplacement (I assume) by the road[/caption] There are some great houses along the edge of the coast here, small, usually, but well looked after and tucked down almost out of sight. There are some fishermen's huts and, I assume, summer bathing huts too. And now there are paths created to take you down to the sea, there care a couple of areas where you can sunbathe and swim, no facilities though, and not very much room, but nice and peaceful. Carrying on you eventually come to Nos Beach (Paradise Beach apparently) with its taverna, sunbed, shade, jetty, water feature, fun park, pedalos and other 'must have' attractions, and then down the hill and into Harani. Where the old iconic hull of Lazy Days might fast be seeing its last days. I snapped a couple of seconds of video, SFX supplied by the church, and got this video for you. After doing that I wandered on, around the road, through the boatyard, to the clock tower, just as the 'Spanos' was coming in taking lots of folk away and dropping off a few more, and ended my afternoon with a drink at Elpida's café. It seemed appropriate as I'd left Agapitos at the church where he had also been helping with the wedding. And that was my Saturday afternoon.
Yesterday
Rhodos Report
, carried the story of 138 refugees who were discovered by the Latvian Coast Guard boat that is here helping with the refugee influx. They were discovered near the bay of St George, and taken in by the authorities to away 'processing.' [caption id="" align="alignleft" width="372"]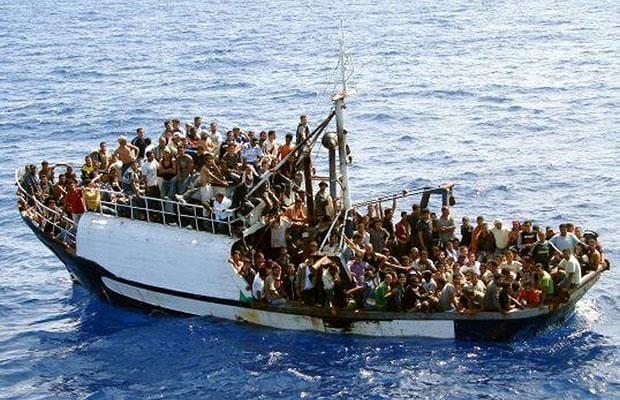 image from Rodos Report[/caption] Adrianna, from Symi Visitor Accommodation, writes: "If you are on Symi at the moment, you may be aware that over 200 refugees have arrived at Symi police station, brought over by people-traffickers from Turkey. As there is not sufficient shelter for all of them on the veranda of the police station many are sitting out on the steps in full sun and there are women and children in the group. While waiting for someone from the UN to arrive to render assistance we are collecting donations to keep them provided with bottles of water. Please drop off any donations at the Symi Visitor Accommodation office up to 1 p.m. today and then this evening after 6 p.m. at Smaragda's shop, the brightly coloured boutique on the waterfront corner, next to Mediterraneo café, opposite the Diagoras' berth. As a guide, 5 euros will pay for 24 small bottles of water. Thank you for your help." You can catch Adrianna's Symi Diary at
her blog, here
. [caption id="attachment_12872" align="alignright" width="300"]
Photo walks Sunday and Wednesday mornings[/caption] I know this talks of yesterday, but I put the message up anyway as I am pretty sure the problem will be an on-going one. If you'd like to donate and help out, and Symi Visitor is closed, you could always drop off bottles of water at the police station itself. It's the white building by the clock tower in Yialos. On a happier note, here's a big thank you to everyone who has written in, sent emails, contacted us, and put messages on Facebook concerning the closing of the shop at the end of October. To answer one question, yes the blog will still be going, though I will be changing it slightly – to be less shop-orientated, though the calendars and books, and maybe even the photos will be for sale on-line as they currently are. [caption id="attachment_12873" align="alignleft" width="198"]
A ruin in Horio[/caption] Here's one message Neil had in that I thought I would like to share, just one of many. "Sad to hear this. As relative newcomers to the wonders of Symi we felt honoured to join you on your birthday morning photo walk last September Neil. Later you invited us all to birthday celebration breakfast in your home. Unforgettable. That morning opened more than one door for me. I had some of the digital images I had taken then printed when I got home. They are framed and on our kitchen wall as I write this. Angled close ups of the pebbled courtyards in Xorio .... Your encouragement and inspiration gave me the confidence to join a photography class and your advice had made such a difference to my photos ...and my life! We look forward to joining you for another walk in September." And so on with the weekend, and a busy one it is too: Friday night, anniversary dinner, Saturday, a wedding to attend in Nimborio, Sunday, a photo walk and writing and a pre-birthday dinner in the evening, Monday, wine night… And so on. Have a good one wherever you are.