Kalo mina! I was in Nimborio on Saturday afternoon. I walked from home in the village, down the Katarraktis (ο καταρράκτης) to the back of Yialos, and then joined the road heading up the hill. It's not too much of a climb, though there's not a lot of shade and it was very hot. [caption id="attachment_12876" align="alignleft" width="300"]
On the path to Nimborio, looking back towards Horio[/caption] At the top of the hill I took the path between the cemetery on the left and the farm on the right and headed out over the top. If you're coming to Symi and want to try the walk, you find the road/slope from the left hand side (south side) of the town square, pass by Iapitos apartments/hotel and the Grace Hotel, both on the left, and simply follow the road up. The path you then follow has been paved, apart from a small section near the middle where it feels like someone said, 'Oh hell, we'll do it tomorrow' and then forgot to come back. But it's all very walkable and not hard work at all but again, not a great deal of shade. Some lovely views though, and if you do head up that way, make sure to stop and look behind you. Neil has much better photos of this view in his shop, I was using my underwater, all-purpose camera, which is fine, but not as good as his. Once you have been sure not to miss that view, keep on along the path and you will come to the church of St George on your left. From the village to here took me 30 minutes, going slowly. [caption id="attachment_12877" align="alignright" width="300"]
In the courtyard at the church[/caption] The church courtyard is usually open here and you can slip the bolt on the gate and pull back the latch and let yourself in. The church itself is usually locked, but there is good shade under the tree and lots more good views down to Nimborio. I was helping out at a wedding there on Saturday and, after the event, I headed on down towards the sea. You come onto the old donkey path this way and it zigzags down the hill to join the coast road. There you can go left towards the new beach, the kantina, and on and around to the end of the road and the taverna with sunbeds. [caption id="attachment_12878" align="alignleft" width="300"]
Walking back along the coast road[/caption] Or, you can do as I did, and walk back along the coast road. This starts off with another steep-ish incline, but not for long, and then you're up on the same level and it's easy walking (shade thing again) with great views of the sea. The road is now made up and there is a path which you can walk on (single file), though there's no barrier between you and the drop on the other side; it's not a long way down but those of us with balance issues might find it hard to look at the view and keep on the narrow pavement at the same time. I stepped off and onto the road when I wanted to walk and look out to sea, just to save myself from going over the edge. [caption id="attachment_12879" align="alignright" width="300"]
An old gun emplacement (I assume) by the road[/caption] There are some great houses along the edge of the coast here, small, usually, but well looked after and tucked down almost out of sight. There are some fishermen's huts and, I assume, summer bathing huts too. And now there are paths created to take you down to the sea, there care a couple of areas where you can sunbathe and swim, no facilities though, and not very much room, but nice and peaceful. Carrying on you eventually come to Nos Beach (Paradise Beach apparently) with its taverna, sunbed, shade, jetty, water feature, fun park, pedalos and other 'must have' attractions, and then down the hill and into Harani. Where the old iconic hull of Lazy Days might fast be seeing its last days. I snapped a couple of seconds of video, SFX supplied by the church, and got this video for you. After doing that I wandered on, around the road, through the boatyard, to the clock tower, just as the 'Spanos' was coming in taking lots of folk away and dropping off a few more, and ended my afternoon with a drink at Elpida's café. It seemed appropriate as I'd left Agapitos at the church where he had also been helping with the wedding. And that was my Saturday afternoon.
Yesterday
Rhodos Report
, carried the story of 138 refugees who were discovered by the Latvian Coast Guard boat that is here helping with the refugee influx. They were discovered near the bay of St George, and taken in by the authorities to away 'processing.' [caption id="" align="alignleft" width="372"]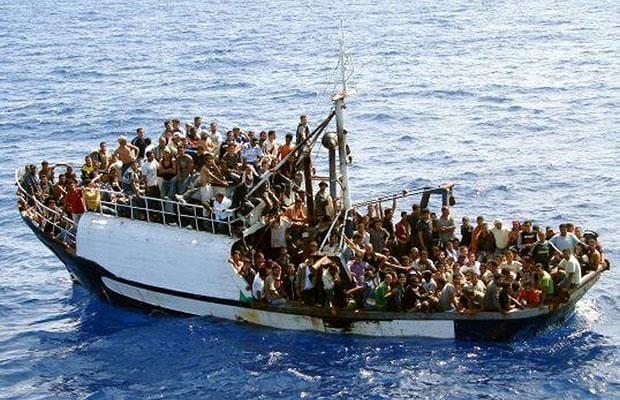 image from Rodos Report[/caption] Adrianna, from Symi Visitor Accommodation, writes: "If you are on Symi at the moment, you may be aware that over 200 refugees have arrived at Symi police station, brought over by people-traffickers from Turkey. As there is not sufficient shelter for all of them on the veranda of the police station many are sitting out on the steps in full sun and there are women and children in the group. While waiting for someone from the UN to arrive to render assistance we are collecting donations to keep them provided with bottles of water. Please drop off any donations at the Symi Visitor Accommodation office up to 1 p.m. today and then this evening after 6 p.m. at Smaragda's shop, the brightly coloured boutique on the waterfront corner, next to Mediterraneo café, opposite the Diagoras' berth. As a guide, 5 euros will pay for 24 small bottles of water. Thank you for your help." You can catch Adrianna's Symi Diary at
her blog, here
. [caption id="attachment_12872" align="alignright" width="300"]
Photo walks Sunday and Wednesday mornings[/caption] I know this talks of yesterday, but I put the message up anyway as I am pretty sure the problem will be an on-going one. If you'd like to donate and help out, and Symi Visitor is closed, you could always drop off bottles of water at the police station itself. It's the white building by the clock tower in Yialos. On a happier note, here's a big thank you to everyone who has written in, sent emails, contacted us, and put messages on Facebook concerning the closing of the shop at the end of October. To answer one question, yes the blog will still be going, though I will be changing it slightly – to be less shop-orientated, though the calendars and books, and maybe even the photos will be for sale on-line as they currently are. [caption id="attachment_12873" align="alignleft" width="198"]
A ruin in Horio[/caption] Here's one message Neil had in that I thought I would like to share, just one of many. "Sad to hear this. As relative newcomers to the wonders of Symi we felt honoured to join you on your birthday morning photo walk last September Neil. Later you invited us all to birthday celebration breakfast in your home. Unforgettable. That morning opened more than one door for me. I had some of the digital images I had taken then printed when I got home. They are framed and on our kitchen wall as I write this. Angled close ups of the pebbled courtyards in Xorio .... Your encouragement and inspiration gave me the confidence to join a photography class and your advice had made such a difference to my photos ...and my life! We look forward to joining you for another walk in September." And so on with the weekend, and a busy one it is too: Friday night, anniversary dinner, Saturday, a wedding to attend in Nimborio, Sunday, a photo walk and writing and a pre-birthday dinner in the evening, Monday, wine night… And so on. Have a good one wherever you are.
Today is the 12th year anniversary of us leaving England to come and live in Greece, and today Neil takes over the blog to make his formal announcement about his shop. I know he wanted to let his landlady know before he posted this, but she has not been around and is away at the moment (he's going to try and get a message to her instead). Neil writes: [caption id="attachment_12864" align="alignleft" width="300"]
2009 'Sign and wine'[/caption] Digital photography really is amazing, and fun. It gave me a new lease of life, and I grabbed it with both hands and steered myself all over the place full of fresh and new ideas, brimming with enthusiasm. I watched, I listened, I took everything in that I was being taught. It was the start of a fantastic career and shop, which in Symi has lasted 10 years. We have had the opportunity to meet some amazing, and lovely people in this time, and my photos have been in newspapers, and are in people's houses, around the world. I want to take this opportunity to thank everyone who has supported us throughout this time, it's been a great time in our lives. The problem with digital photography is that lots of people nowadays are more than happy with taking a quick snapshot to then instantly put up on Facebook and other sites. Mine, and many other photographers' jobs have been affected badly because of this, through no fault of our own, I have to add. It has had such an impact that I can no longer afford to keep the shop, 'Symi Dream' going. The shop will stay open only until the end of the season. [caption id="attachment_12865" align="alignright" width="198"]
Symi Dream open until the end of October[/caption] But there's still time for wine nights and walks and bargains. I'll be celebrating my birthday on the 8th September wine night with the start of an end of shop sale; cards and some photos will be reduced in price. The last wine night will be on October 13th and everyone will be welcome as always. Meanwhile, the shop and exhibition is open every day (apart from Sundays) and walks are still on, Wednesday and Sunday mornings. [caption id="attachment_12866" align="alignleft" width="300"]
Yesterday morning on the road to Roukoniotis at dawn.[/caption] Please let everyone on the island know that if they need small photos for Driving license, taftotita, work papers, health books etc. they should come before the end of October. Just to let you know, we will still be staying, and living on Symi, so still look forward to seeing you around. What happens next? Who knows? A new chapter will start in our lives. Life is full of exciting and new adventures… {By the way; whether you want it or not, the blog will go on, though the site will have to have some slight changes made of course.]